Hy-Gain Illuminator (New Style) Meter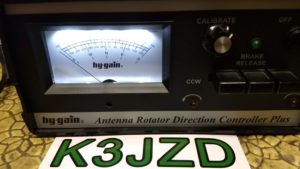 Good Day,
Regarding the statement that is in your instructions saying:
"Please note that the Rotator Illuminator is designed to work with meters that have clear plastic on top and a single bulb mounted above the meter . . . .  Control boxes made in the last year or two have black plastic all around and with two bulbs set into the meter and are unfortunately not suitable for the Rotator Illuminator."
Well, since my rotator box was pretty jammed in, I did not want to take it out twice.  So, I had no idea what I had until after I ordered your kit and went to install it.  Turns out that I had the 'not suitable' kind.  Well, not wanting to remain in the dark, I made it 'suitable'.  Took a little more work, but not that much more.  The bulbs inside the meter are fed with the same 28VAC, so it became a physical problem.  Turns out that the meter still has clear plastic at the top – it is just the meter mounting frame that is in the way.
As the sequence of attached pictures show, the space between the adjustable meter mounting arms allows room for the three LEDS.  One has remove those top arms and drop the meter down and out of the frame; pop the frame out; drill three holes in the frame; pop the frame back in; put the meter back up in place; set up the Illuminator board so that the LEDs drop into those three holes and solder them right there; and you have it.  Using the Illuminator board with the LEDs down low like that, and neither resistor jumpered out, it provides a light intensity that is just fine with me (the pictures make it look brighter – which is a camera issue).  If one wanted less intensity, one could just raise the LEDs or add more resistance.
Feel free to utilize any of this information in your advertising and/or install instructions.
Jody – K3JZD   ( Order #HS21029 )
Thank-you Jody, looks awesome (click pictures to enlarge)!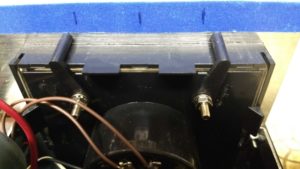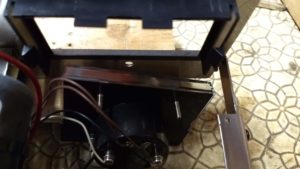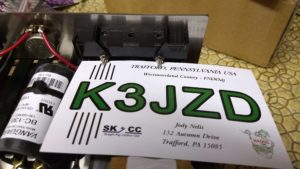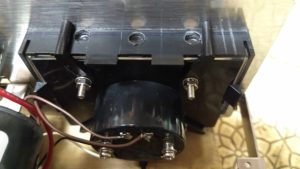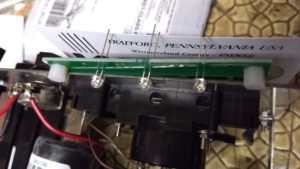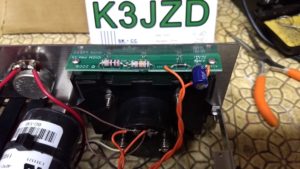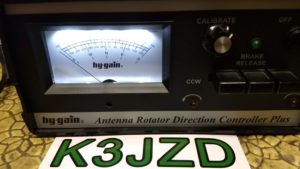 Back to our Hy-Gain Illuminator page