RotorCard DXA – Yaesu DXA and DXC Series Rotors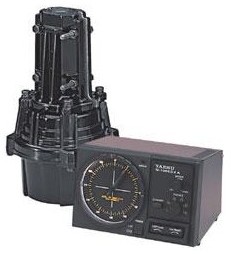 RotorCard DXA for Computer RS-232/USB Control of Yaesu DXA/DXC Series Rotor Controllers by Ham Supply – Invented, Patented and Manufactured in the USA

RotorCard DXA/DXC – Inexpensive RS-232 Rotor Control for Yaesu DXA and DXC Series Rotors (G-800DXA, G-1000DXA, G-2800DXA, G-800DXC, G-1000DXC, G-2800DXC).  RotorCard mounts inside your DXA box, no bulky or unsightly external boxes!
NOTE: If your rotor is the Yaesu SDX series, see the RotorCard Yaesu SDX page.
Do you own one of these superb Yaesu DXA/DXC rotors?  Do you use logging or contesting programs that offer rotor control?  And you would like to add RS-232 computer control but you have been put off by the extremely high price of a factory interface card?
You say you looked at the competition, but did not want to surrender a slot in your computer, and besides you wanted full support for both the Yaesu overlap function and for the slowdown feature, instead of a pricey "universal" solution?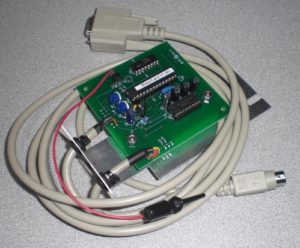 Relief is at hand! Ham Supply/Idiom Press is now offering our RotorCard DXA offering full RS232 control for Yaesu DXA and Yaesu DXC series rotors.  RotorCard fully supports the Yaesu overlap function, as well as Yaesu's slowdown feature.  Further, RotorCard DXA is the only product available that fully supports both north centered rotors and south centered rotors.  You need only add a jumper to the board to default to south centered control.
RotorCard DXA is supplied fully wired, and installs in minutes in your Yaesu DXA control box.  You remove the control box top, plug RotorCard DXA in, then run a calibration routine using any dumb terminal program such as Hyper-Terminal in Windows, and adjust two pots on the RotorCard DXA board.  Then, slip the RotorCard DXA mounting bracket into place, put the plugs back in, put the cover back on and you are done!  No soldering required!
RotorCard DXA is fully compatible with any program that supports rotor control of either the HyGain DCU-1 rotor or Idiom Press's Rotor-EZ, as it shares the same command set.
No DB9 RS-232 port on your computer? Did you know all you need to run the RotorCard DXA from a USB port on your Windows XP/Vista/7/8/10 or Apple/Mac computer is a USB to RS-232 adapter cable? As to why we've made the decision to stick with tried and true RS-232 on our controllers (and not go the path of direct USB to USB connectivity), here's just a few reasons:
RS-232 dependability, stability
RS-232 compatibility with older computers
RS-232 ease of use – lack of intensive USB software stack (the deltas blog)
RS-232 – no communications signal line power required
Hard limitations on cable length for USB (1.5-2 Meters) versus up to 15 Meters (maximum baud rate) and 100 Meters (low baud rate) for RS-232
RS-232 – dedicated communications (com) port – unlike USB "hubs" with complex stacks to identify and separate ever changing ports
"It is worth pointing out that RS232 is far superior to USB when jitter and latency matter. You cannot reliably feed a Pulse Per Second signal to a computer over USB. You can do so with RS232" – dfc (Electrical Engineering, www.stackexchange.com)
And the list goes on and on.  USB may be great for your computer peripherals like a camera or a high speed printer, but for low baud, rock solid communications – RS-232 is still the king.  We recently spoke to an employee/engineer of a well known Ham Radio antenna company that is presently looking into re-implementing RS-232 for their products because they've had so many issues with direct USB to USB connectivity.  The bottom line is, "the newest thing is not always the best thing".  We concur.
And we've been saving the best news for last – the price!  RotorCard DXA is available fully wired and tested for US $148.95 (plus shipping and handling).
Product Reviews

We know the RotorCard DXA is great, but you don't have to take our word for it.  See what your fellow hams are saying about the RotorCard DXA on the eHAM.net Product Reviews and also view customer feedback via our Ham Supply User Review page.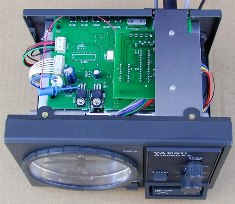 Yaesu Rotor Accessories
Yaesu RotorCard DXA:  Computer control RS-232/USB point & shoot rotor control board (DXA series rotors)
Yaesu RotorCard SDX:  Computer control RS-232/USB point & shoot rotor control board (SDX series rotors)
USB/RS232 Converter Cable:  Gold plated connectors, 3′
Yaesu Illuminator:  3 LED light board for Yaesu rotor controllers
DXA/C-6′ Mini-DIN 6′ Cable:  Front panel transceiver control of your Yaesu DXA rotor controller
Pricing and Ordering

RotorCard DXA Fully Wired & Tested:  $148.95

USB to RS232 Converter Cable (FTDI Chipset):  $19.95
Note: The above product is for Yaesu DXA series rotors.  Other rotor upgrades include the RotorCard SDX for Yaesu SDX series rotors, as well as the Rotor-EZ for Hy-Gain rotors.
Sorry, no serial interface board for Yaesu G-400, G-400RC, G-450A, G-450RC, G-550, G-650A, G-650C, G-800SA, G-1000A, G-1000SA, or G-5500 rotor controllers (yet).
Yaesu SDX and Yaesu DXA are registered trademarks of Yaesu.