Rotor-EZ for Hy-Gain Rotator Control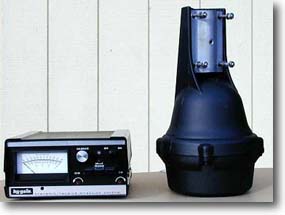 Rotor-EZ for Hy-Gain Controllers by Ham Supply/Idiom Press – Invented, Patented and Manufactured in the USA
"Point and Shoot" Rotor-EZ (with or without computer control RS-232) and Rotor-EZ Serial Upgrade Kit (for existing non RS-232 Rotor-EZ to RS-232) for Hy-Gain Controllers by Ham Supply/Idiom Press are now IN STOCK and ready to ship.  Our Hands-Free Rotor-EZ controller installs in any CDE, Ham-M, Ham-II, Ham III, Ham IV or TailTwister rotator control box with three paddles on the rotator control box.  You have 3 paddles on your Hy-Gain rotor control box?  Our Rotor-EZ will work for you!
Do you own one or more of these fine rotators?  If you do, you know that for all their faults they are still some of the best rotators available.  Now, by adding Rotor-EZ to your rotator control, you can bring these units up to date with all the features of rotators or rotator controls costing hundreds of dollars more, all while eliminating the faults!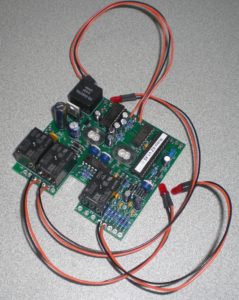 Rotor-EZ starts by adding a really neat and unique auto-point feature, which is easier to use and more accurate than the "preset" capability offered by any competitive rotator or rotator control.  This allows you to quickly, simply and accurately point the antenna, then press the brake paddle momentarily and let go, freeing your hands for other things, perhaps such as panic band change thanks to a packet spot called in for a needed station.
Rotor-EZ protects your rotator, with electronic end stops, provision for coasting, and start-up jam prevention, especially useful for TailTwisters. You lose no utility with these features, but add significant protection for your rotator, antenna and tower.  These features can be bypassed if desired.
Rotor-EZ offers full support for antennas set at 90° to the main antenna.  Ground a circuit lead and the meter needle moves 90 degrees to show the bearing for the offset antenna.  And, an LED lamp pulses to remind you that you are in the offset mode.  Perfect for the forty meter "shorty-forty" or the WARC band offset antenna sharing the mast with your tri-bander!
Full RS232 control is now an affordable option for older Rotor-EZ installations with the Rotor-EZ Serial Upgrade Kit (non RS-232 to RS-232), offering full compatibility with all the popular logging and contesting programs.
Rotor-EZ is offered as circuit board kit or prewired and tested board that you add to your rotator control unit.  Everything needed except solder and tools is included.  Featuring sophisticated microcircuitry and firmware, the board can be assembled and installed in a few hours.  All functions are accomplished in the control unit, and no tower climbing is required to fully implement Rotor-EZ.  The board fits in and works with all CDE, Ham-M, Ham-II, Ham III, Ham IV or TailTwister rotator control units that have three control paddles on the front.  If you do not have the time to add Rotor-EZ to your rotator, contract assembly and installation are available.  Contact Ham Supply/Idiom Press for further details.
Operating Modes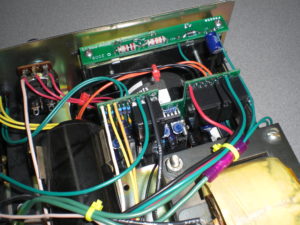 Manual Mode:  The rotator control works as before; pressing the brake and a paddle turns the antenna.  However, Rotor-EZ provides an automatic 5 second time delay before the brake resets after paddle release, allowing the antenna to stabilize before the brake locks (note that after Rotor-EZ is installed, the LED's – if supplied in the original configuration of the box – do not light when the unit is manually controlled, although the meter functions as before.  However, normal operation using Rotor-EZ will rarely require manual operation, and when using the Rotor-EZ features, the LED's do illuminate as appropriate).
Auto-Point Mode:  What was the calibration knob becomes your pointing control (the calibration function is now an internal one).  When you turn the knob, the meter function automatically switches from reading the existing antenna bearing and instead becomes the aiming pointer, captured by the aiming logic of the circuit.  Rotate the knob, moving the needle easily, precisely and accurately to your desired bearing.  Then, a brief press of the brake paddle begins rotation, and your hands are free!  The meter needle returns to its normal function, tracking the antenna as it moves.  When the antenna reaches the new bearing, rotation stops, and after a 5 second delay the brake sets.  LED's signal the motion, and how near the antenna is to the new bearing.
If the TailTwister program option is selected (all program options are selected by PC board jumpers), when command execution begins the rotator first pulses in the opposite direction for 1 second in case the brake is stuck, pauses 1 second, then turns in the proper direction.  This routine virtually ends Tailtwister start jams.  If the antenna still does not move within a few seconds, an LED signals a rotation problem and the rotation command is cancelled.
Another program option adds electronic end points.  If enabled, this Rotor-EZ option limits the rotation range to exclude the last 5 degrees on either end of the scale, preventing the rotator from jamming on the end stop.  The rotator can still be manually turned into these areas if needed.
Rotor-EZ (No RS-232) in Action on YouTube (Thanks Fred!)
Rotor-EZ (With RS-232) Computer Control in Action on YouTube
90-Degree Offset Capability:  Now standard in all units.  When active, the offset moves the meter needle 90° right or left, supporting the offset antenna.  The plus or minus offset is controlled by a circuit board jumper.  Grounding a circuit board lead, either by a switch added to the control box or by an external control such as a set of relay contacts, activates the offset capability.  While active, an LED blinks to assure recognition by the operator that the control is in offset mode (this notice can prevent some stupid mistakes of the type that tend to occur at 2 AM).  The 90° offset capability is fully supported in each of the three modes (manual, auto-point and RS-232).
What differences will Rotor-EZ make to your operating?  Active operators using Rotor-EZ tell us that they find they use their rotators a good deal more because of the greatly enhanced convenience.  Checking out long path, looking down secondary propagation paths, or testing for crooked path signals are all easier.  Also, they find themselves tuning different bands more frequently, because turning the antenna for the optimum path on a different antenna is so easy and painless.  In short, they wonder how they ever got along without it!  You will too!
Features
– 5 second delay before releasing brake after any operation
– Really slick "auto-point" feature
– Full manual override always available
– Algorithms to deal with pot strip "dead spots"
– Control Accuracy: better than 3 degrees
– Programmable anti-stick routine
– Programmable electronic end points
– Programmable overshoot option for large arrays
– Full 90° offset support for secondary antennas
– LED's give brake and rotational status
– RS-232 support optional, commands compatible with HyGain DCU-1 control
– 90 day warranty on parts; repair service and installation service available
– Patented US Patent Office
– Works with CDE-45, Ham-M, Ham-II, Ham III, Ham IV and all TailTwister rotators
– Installs in any CDE, Ham-M, Ham-II, Ham III, Ham IV or TailTwister rotator control box with three paddles on the rotator control box
RS-232 Mode:  RS-232 is now an option for older Rotor-EZ installations by adding a computer interface to the circuit board.  With the RS-232 Rotor-EZ Serial Upgrade Kit, Rotor-EZ works with any logging or contest program that recognizes the Idiom Press Rotor-EZ protocol or the Hy-Gain DCU-1 protocol (the DCU-1 protocol doesn't allow the "while in motion" bearing of the rotator to be read, however).  A nine pin DB9 RS232 serial port connector offers access to your computer.
For Rotor-EZ with RS-232
No DB9 RS-232 port on your computer? Did you know all you need to run Rotor-EZ (with RS-232) from a USB port on your Windows 98/XP/98ES/ME/2000/Vista/Win7/Win8/Win8.1/Win10/RT/Apple Mac OS X is a quality USB to RS-232 adapter cable? As to why we've made the decision to stick with tried and true RS-232 on our controllers (and not go the path of direct USB to USB connectivity), here's just a few reasons:
RS-232 dependability, stability
RS-232 compatibility with older computers
RS-232 ease of use – lack of intensive USB software stack (the deltas blog)
Hard limitations on cable length for USB (1.5-2 Meters) versus up to 15 Meters (maximum baud rate) and 100 Meters (low baud rate) for RS-232
RS-232 – dedicated communications (com) port – unlike USB "hubs" with complex stacks to identify and separate ever changing ports
"It is worth pointing out that RS232 is far superior to USB when jitter and latency matter. You cannot reliably feed a Pulse Per Second signal to a computer over USB. You can do so with RS232" – dfc (Electrical Engineering, www.stackexchange.com)
And the list goes on and on.  USB may be great for your computer peripherals like a camera or a high speed printer, but for low baud, rock solid communications – RS-232 is still the king.  We recently spoke to an employee/engineer of a well known Ham Radio antenna company that is presently looking into re-implementing RS-232 for their products because they've had so many issues with direct USB to USB connectivity.  The bottom line is, "the newest thing is not always the best thing".  We concur.
The Product
Rotor-EZ is supplied either as a kit or as a preassembled board.  The preassembled board must be wired into the control.
Product Reviews

We know the Rotor-EZ kit is great, but you don't have to take our word for it. See what your fellow hams are saying about the Rotor-EZ on the eHAM.net Product Reviews Web Site and also view customer feedback via our Ham Supply User Review page.  In addition, please read the mention of our Rotor-EZ in the eHam Article "Saving Money On Rotors" by satisfied customer Steve Fetter.  Thanks Steve!
Product review for Rotor-EZ in QST
Pricing and Ordering

Rotor-EZ No RS-232 Kit:  $99.95


Rotor-EZ No RS-232 Board Assembled & Tested:  $129.95


Rotor-EZ With Computer Control RS-232 Kit:  $119.95


Rotor-EZ With Computer Control RS-232 Board Assembled & Tested:  $149.95


Rotor-EZ Serial Upgrade Kit (for existing non RS-232 Rotor-EZ to RS-232):  $29.95


USB/RS232 Converter Cable – Gold Plated Connectors, 3′ FTDI Chipset:  $19.95
Kit Building and Installation Assistance
Charley Snodgrass:  Charley provides complete services for CDE/Telex/Hy-Gain rotator control boxes, including repairs and installation of Rotor-EZ boards and Rotator Illuminator LED light kits.  Please contact Charley at: charley46813@gmail.com
Note: The above product is for Hy-Gain rotor controllers.  Other Ham Supply rotor upgrades include the RotorCard SDX for Yaesu SDX series rotors, as well as the RotorCard DXA/DXC for Yaesu DXA/DXC series.
CDE, CDEII, Ham-M, Ham-II, Ham-III, Ham-IV, TailTwister, DCU-1, DCU-2, DCU-3 are registered trademarks of Hy-Gain.